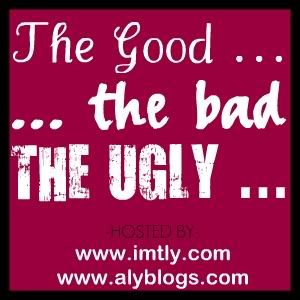 The Good: We're headed to Colorado tonight!.
The Bad: We're not escaping the cold weather.
The Ugly: The actual temperature there has been in the negative teens over the last few days. (Hopefully not this weekend!)
The Good: We didn't have to take Duke out when we got home from work toinght.
The Bad: I had to take him to the vet this morning to board him.
The Ugly: Taking him to the vet to board him is just a definition of ugly!!! I would rather take him out all day long than have to see those sad little eyes looking at me saying "Why are you leaving me here? Do you not love me anymore?" So "The Good" in this section is actually not good!
The Good: All of our tv shows are just getting good this season!
The Bad: A lot of them are having season finales in the next couple weeks.
The Ugly: We'll have to watch basketball and baseball all the time.
The Good: Matt and I cleaned out the living room and front closet yesterday!
The Bad: We didn't get around to the rest of the apartment.
The Ugly: There's really nothing ugly about this. It's all good. :)
That's all I've got!
Go link up with B at IMTLY!
Pin It